Three
A Menage Erotic Romance
by
S.C. Daiko
@S_C_Daiko
Blurb:
I shouldn't want this, shouldn't want them, and I definitely shouldn't want all the dirty things they do – not just to me but to each other.
I want it so bad I can't keep my head straight.
Why does dirty have to feel so damn good?
It's lust, simple as that. No strings, just two guys, a girl and a whole lot of filth.
No big deal… it's not like I'm going to fall for them or anything, right?
Sexy Italian Max has had the starring role in some hot dreams and wild nights for Lauren. Now she will be living with him, leaving her life in Seattle behind while she works for his company in Rome, Italy. There she meets gorgeous Englishman Steve, who is also rooming at Max's villa. Soon crazy ideas start to form in Lauren's mind about having both men in her bed. When Lauren's fantasy becomes reality, the two sex gods take her to heights of filthy pleasure she never imagined possible. So what could possibly go wrong?
Advisory: vivid erotica and scenes involving BDSM, MF, MFM, MMF. All consensual. Most definitely 18+ only.
Review: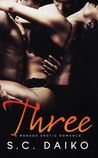 Three: A Menage Erotic Romance by S.C. Daiko
My rating: 5 of 5 stars
Beautifully Written Love Story
I have read several of SC Daiko's books. She never fails to deliver with an elegance of artistry in her prose. Her sweeping Italian backdrop in Three is tantamount to another character in this beautifully written love story between two men and a woman.
This story is erotic, searingly sensuous and full of scorching BDSM love-making between Lauren and her boss, Max. One might assume that Lauren is a shrinking violet since she is a submissive, but she is not—enter Steve. A willful woman who knows what she wants, and with whom, Lauren articulates her desires and the men deliver, both with her and each other.
Bring on the bucket of ice and a fan. You are going to need it right up until you turn the last delicious page. This may be one of Ms Daiko's best works. I highly recommend this wonderful love story. It is seriously *H*O*T*. 5* plus!! No wonder it is a Bestseller!!
Muffy Wilson
View all my reviews
♥
°*"
˜
✿
˜"*°
♥
Please Feel Free to Share
and
Please Leave a Review

Live ~ Laugh ~ Love
with Passion
Your Blog Host:
Muffy, likened in style to one of the Bronte sisters and Anne Rice, is an award winning bestselling author of provocative romance about love, sex, hope and passion. An American author of the popular Shadow Seduction Series (a paranormal love story) and the Ribbons of Moonlight Series (a contemporary romance), she has penned a dozen other books and anthology collections.
Muffy was born in Texas to traditional parents. With two older brothers, she was the youngest, the family "princess," indulged and pampered. Her father was a career Colonel and pilot in the U.S. Air Force which required the family to travel extensively. Muffy spent her formative years in Europe and 'came of age' in France which forged her joie de vivre and love for books and writing. Married and living in the tropical paradise of SW Florida along the Gulf Coast, Muffy writes and enjoys life in the sun with her husband and wee Havanese pup, Burt.
Buy Link
This book is just brilliant and so damn good.
Muffy Wilson is beginning to be one of my favorite authors.
By Linda M Watson on August 10, 2015
I completely enjoyed reading this book, could not put it down!
Reading The Para-Portage of Emily made me feel like I was reading Jane Austen or one of the Bronte sisters, if they had written erotic romances. Wilson's descriptive prose paints a scene like an artist paints a landscape. The story itself is hauntingly beautiful
Spellbinding!
~ Now on Pre-Order ~
Vampire Bites
Vampire Paranormal Romance Boxed Set
(Vampire Bites Series Book 1)
Prequel Short Story Teaser to Alpha Fever
~ Just released ~
Mar 2016 ~ Alpha Fever:
22 Sizzling Contemporary and Paranormal Romance Stories by
24 USA Today, NYTimes, Amazon, International, and Award Winning Bestselling Authors
Gina Kincade and Naughty Nights Press
featuring
The Butterfly Collector by Muffy Wilson
~ Coming Soon ~
July 2016 ~ My Life in the Sky A Memoir of Lt. Col. Joe Lyle Jr
Aug 2016 ~ Sequel to The Para-Portage of Emily
Nov 2016 ~ Ribbons of Moonlight Sequel to Moonbeams of Unintended Consequences
© 2000-2016 Muffy Wilson.
[Muffy@MuffyWilson.com] All rights reserved. Content may not be copied or used in whole or part without written permission from the author.