BOOK INFORMATION
TITLE – Graphically Novel SERIES (& Book #) – Love Hashtagged Book 3 AUTHOR – Allyson Lindt GENRE – Contemporary Romance PUBLICATION DATE – 2/12/2016 LENGTH (Pages/# Words) – 50,000 words PUBLISHER – Acelette Press COVER ARTIST – Loralie Hall
NOTE - can be read as a standalone.
---
BOOK SYNOPSIS
Her best friend has his own comic shop, respects her fandom, and offers to add a with benefits clause to their relationship, to distract her from the stresses of work. What more could a geek-girl ask for?
Tori thought being the head designer and co-owner of a cosplay-themed lingerie company meant a chance to create. Instead of coming up with new ideas of her own, she spends all her time drawing others' concepts, and managing her half the corporation.
The pressure pushes her past the edge of frustration. Her best friend and Sunday afternoon movie buddy, Archer, offers her an outlet—sex, minus the emotional attachment. When getting off takes a graphically novel turn, Tori realizes dirty talk is a massive turn-on.
The rush of speaking her mind bleeds into the workplace, and the backlash leaves Tori staggering. On top of that, she hasn't protected her heart from Archer as well as she intended. Now the novelty of saying what she thinks threatens to screw Tori out of her job and her closest friend.
---
BUY & TBR LINKS
---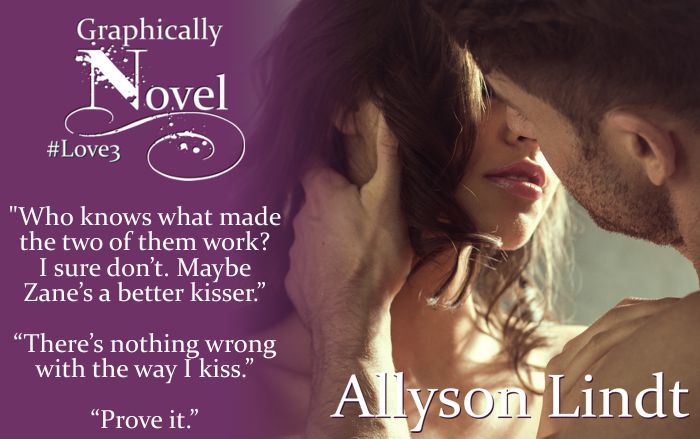 EXCERPT
Knowing she was drunk didn't stop his pride from stumbling again. Archer's ego was going to be limping into an emergency room if she kept this up. "Even if I have no idea why they make a good couple, I'm pretty sure kissing isn't at the top of the list. There's nothing wrong with the way I kiss."
"Prove it." Tori straightened, some of the fog evaporating from her expression.
Archer raised his brows. He was wounded enough to be baited into the challenge. Besides, her full lips enticed him, and he'd wondered what kind of kisser—among other things—Tori was, on more than one occasion. Except this wasn't the time to find out. "You're drunk."
"I'm not propositioning you, and you're not taking advantage of me." The slur faded from her voice. "I'm saying you're not allowed to be the judge of your own kissing skills. If you're so sure that's not the issue… Or maybe you're not as certain as you act."
---

AUTHOR BIO
Allyson Lindt is a full-time geek and a fuller-time contemporary romance author. She prefers that her geeky heroes come with the alpha expansion pack and adores a heroine who can hold her own in a boardroom. She loves a sexy happily-ever-after and helping deserving cubicle dwellers find their futures together.
---
AUTHOR FOLLOW LINKS
---
This event has been organized by
Muffy, author of provocative romance about love, sex, hope and passion, was born in Texas to traditional parents. With two older brothers, she was the youngest, the family "princess," indulged and pampered. Her father was a career Colonel and pilot in the U.S. Air Force which required the family to travel extensively. Muffy spent her formative years in Europe and 'came of age' in France which forged her joie de vivre and love for books, writing and education.
Married and living in the tropical paradise of SW Florida along the Gulf Coast, Muffy dabbles in real estate, writes and enjoys life in the sun with her husband and wee Havanese pup, Burt.
~ Live, Laugh, Love with Passion
~ Now Released ~
Consenting Hearts A Very Special Valentine
***FREE*** Download
Prequel Short Story Teaser to Alpha Fever
~ Coming Soon ~
Mar 2016 ~ Alpha Fever
Anthology
with Gina Kincade from
Naughty Nights Press
featuring
The Butterfly Collection by Muffy Wilson
Apr 2016 ~ My Life in the Sky A Memoire of Lt.Col. Joe Lyle Jr
Aug 2016 ~ Sequel to The Para-Portage of Emily
Nov 2016 ~
Ribbons of Moonlight
Sequel to Moonbeams of Unintended Consequences
© 2000-2016 Muffy Wilson.
[Muffy@MuffyWilson.com] All rights reserved. Content may not be copied or used in whole or part without written permission from the author.